This week I had the pleasure of giving an artist's talk at the The Asocial Telepathic Ensemble launch party, released by the amazing Corvo Records label at the sound art space, Errant Sound (where I was a member for many years).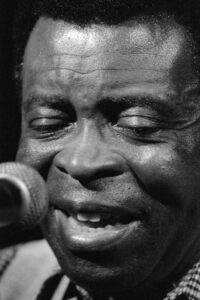 Being part of the event gave me the opportunity to reflect back on the Asocial Telepathic recording session which took place over a year ago — when we were in the depths of another lockdown. In doing so I realised, once again, how much listening is at the core of pretty much everything I do as an artist and practitioner, no matter which medium I choose to use.
Listening with all my senses and simultaneously translating what I perceive are at the heart of my practice… be it in creating river perfumes, encountering horses, or capturing portraits of women.
For the talk, I put together a selection of images that focus on the act of listening itself: depicting visually what can only be evoked in this silent medium.
The first image is a voice portrait of Francis Bebey, a wonderful musician and musicologist, I had the honour of encountering and listening to in 1996 at the multi-disciplinary Sura Za Africa festival in Austria – my first ever photography commission! Bebey lost his voice shortly after, making this image even more precious in later years.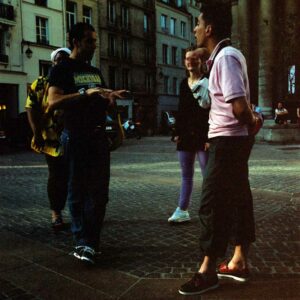 The second is from the 2001 Langue des Signes series, a photographic research project on the visibility of sign language in Paris' public spaces.
The third is a portrait of a deaf girl born into a hearing family. I had the honour of following her first steps into spoken language through a technique called Codali (CODage Audition Langage Intégration). The resulting project, Franchir un Seuil (To Cross A Threshold) is part of the Museum der Moderne Salzburg.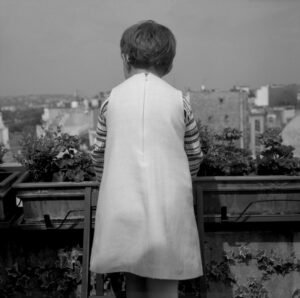 The Asocial Telepathic Ensemble was initiated and curated by Alessandra Eramo (sound artist, composer, and vocalist) and Brandon LaBelle (artist, writer, and theorist) during the Covid-19 lockdown of last Spring. It's an international, collaborative work of sound culture that brings together 11 composers, sound artists, curators, writers, and performers (see below for full credits) who simultaneously switched on their recording devices on the 21st March 2021 for 15 minutes. The result was a globe-spanning, telepathic recording session, documenting thoughts, habits, and surroundings — an attempt to connect with each other. No editing was done.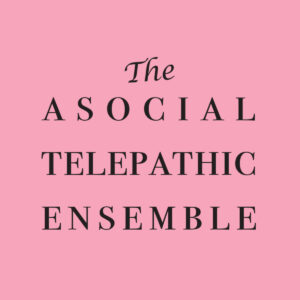 The recording documents a historic moment in the 21st century, a very intimate glimpse into the reality of self isolation which has been experienced globally. Each recording offers a poetic approach to daily routine and deals with relatable themes such as: communicating with artificial voices, loneliness, yearning to travel, or being bored. 
But, ultimately, these artistic statements also talk about hope, transforming tragedy into irony, and accepting bodily and mental fragility

—

 during the pandemic and beyond.
You can order the tape or listen online.
The Asocial Telepathic Ensemble are: Alessandra Eramo (voice, electronics); Ambra Pittoni (field recordings); Brandon LaBelle (field recordings); Florence Cats (field recordings, electronics); Ines Lechleitner (field recordings); Israel Martinez (field recordings, voice); James Webb (field recordings); Korhan Erel (field recordings, melodica); Lucia Udvardyova (field recordings, electronics); Ricarda Denzer (field recordings, voice); and Thea Farhadian (field recordings, violin, electronics).